Women in Sport Series
November 02nd, 2021
Listen to 8 inspiring women from across the world discuss their their own personal life experiences in this unique series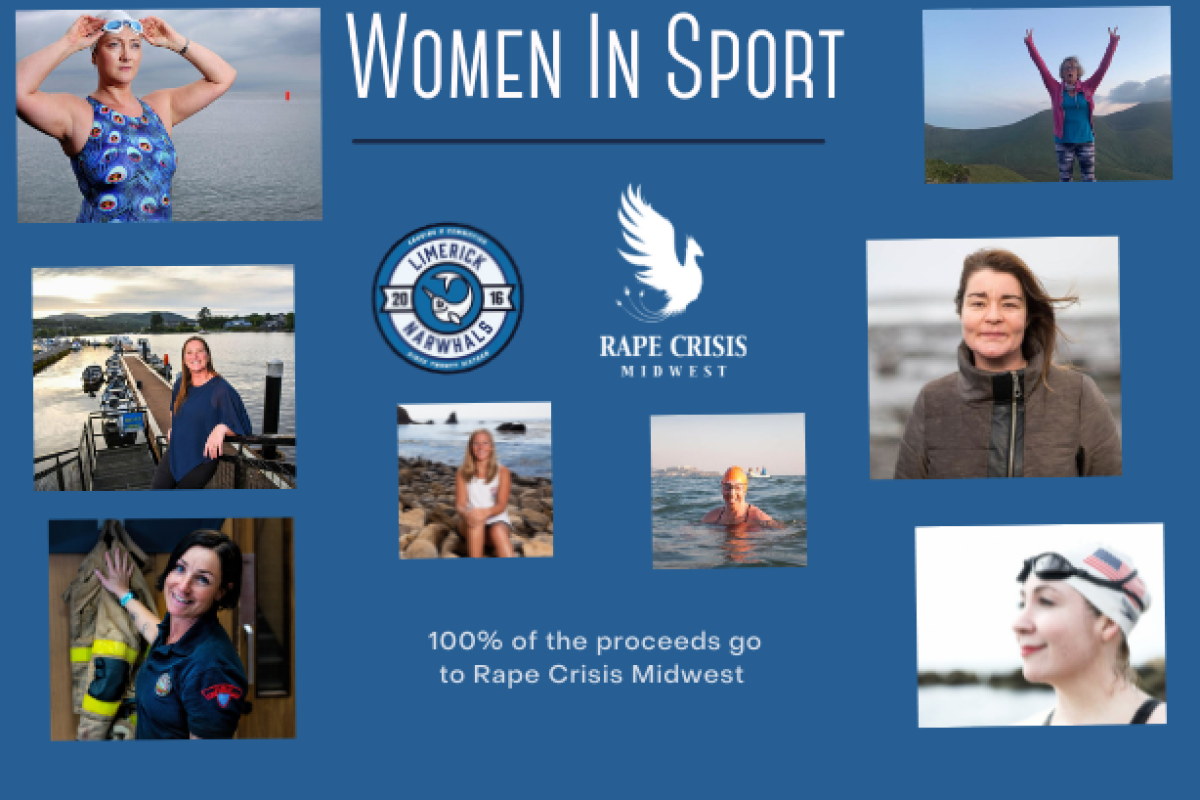 Over the course of 4 weeks, we will have 8 talks by 8 inspiring women in the world of sport, particularly swimming. Topics include working in a male-dominated field, becoming a widower, friendship, love, psychology of sport and the amazing journey of these women to International standards in sport.
All proceeds will go to Rape Crisis Midwest
Talk times: Each week the first talk with taking place from 19.30 to 20.15 GMT. The second will take place from 20.15 to 21.30 GMT.
1 ticket gives the person purchasing access to all of the talks. Link to booking is HERE
Week 1: Wednesday 1st Dec
Tiffany Quinn's will discuss her experience with ice swimming as chairwoman of the IISA (International Ice Swimming Association) Ireland.
Jacqueline McClelland is an Irish open water swimmer, triathlete, endurance athlete, coach at Infinity Swim Academy, and a member of the Camlough Lake Water Festival team and the IISA Ireland. Her talk will focus on her being a secretary to the fastest growing sport in Ireland.
Week 2: Wednesday 8th Dec
The fantastic Rachael Lee is a firefighter and honour swimmer in the Ireland Marathon Swimming Hall of Fame. She will talk about what it's like being a top athlete and working in a male-dominated field.
Aisling Armshaw is an open water swimmer and member of the Limerick Narwhals. Her talk will discuss how swimming keeps her going after sadly becoming a widower.
Week 3: Wednesday 5th Jan
Rosie Foley is a secondary school teacher, International rugby player, open water swimmer, and sports enthusiast who will take us through her amazing career in sports from rugby to swimming.
Fionnuala Walsh was inducted into the Irish Marathon Swimming Hall of Fame this year following her many incredible sporting achievements. Her talk will focus on friendship and luck.
Week 4: Wednesday 26th Jan
Jaimie Monahan will discuss her amazing sporting career as a three-time Guinness World Record holder in ice, winter, and ultramarathon swimming. Jaimie is from New York City and has enjoyed open water swimming and set records on all seven continents.
Jen Schumacher, PhD, CMPC, is the Assistant Director of the Performance Psychology Program for the Center for Enhanced Performance at West Point, the United States Military Academy. Jen will discuss the relationship between psychology and sport.
In association with Limerick Narwhals, Limerick Masters Swimming Club, and Irelandonwater.com.
Return back to News