Latest News at Rape Crisis Midwest
Rape Crisis Midwest to hold Pro-Am 2020 Pre-Qualifier Golf Classic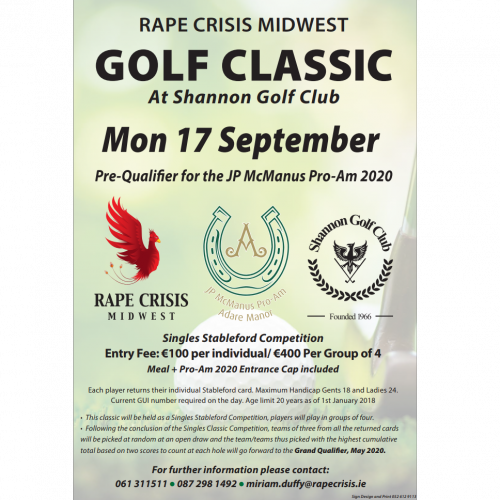 Rape Crisis Midwest are delighted to announce their Golf Classic event on September 17th in Shannon Golf Club. This golf classic is a Pre-Qualifier for the JP McManus Pro-Am 2020.
The entry fee for this event is €100 for individuals and €400 for teams of four. The fee includes a meal on the day and Pro-Am 2020 Entrance Cap. Each Pre-Qualifier Competition to be held as a Singles Stableford Competition. Individuals can play with whom they wish on the timesheet but scoring is on a Singles Stableford basis. Following the conclusion of each Singles Competition, teams of three from all the returned cards will be picked at random at an open draw and the team/teams thus picked with the highest cumulative total based on two scores to count at each hole will go forward to the Grand Qualifier provided that the charitable competition has raised the required €12,500 from the staging of their event.
For more information on the Golf Classic or to take part please contact Miriam Duffy on 061 311511, 087 298 1492 or miriam.duffy@rapecrisis.ie.
Event Details:
Rape Crisis Midwest Golf Classic (Pre-Qualifier for the JP McManus Pro-Am 2020)
Shannon Gold Club
Monday September 17th 2018
Entry Fee: €100 per individual/ €400 Per Group of 4 (Meal + Pro-Am 2020 Entrance Cap included)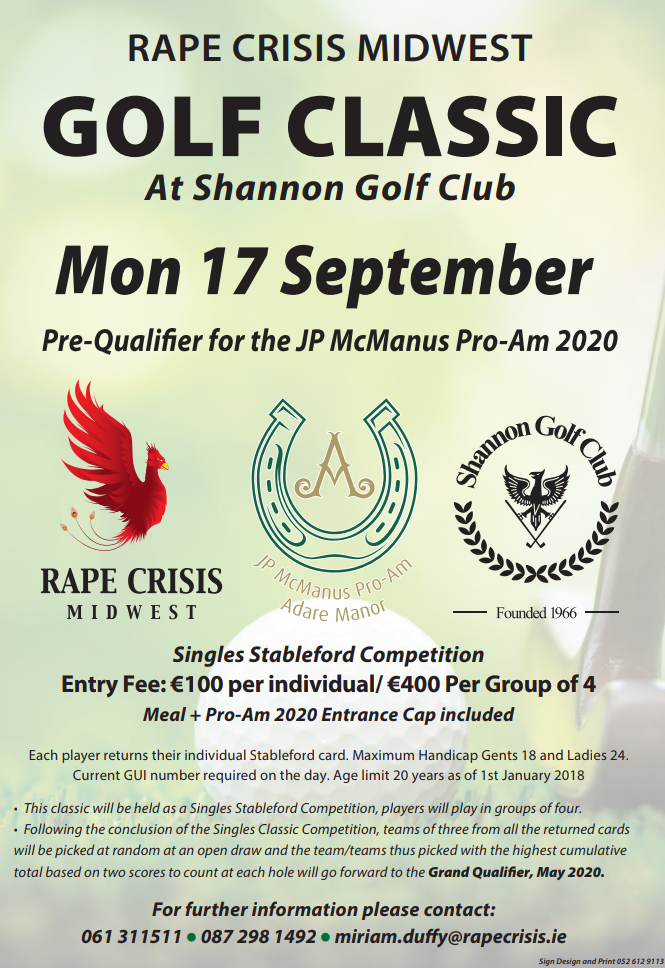 Return back to News