What Rape Crisis Centres do?
In 2015, 11 RCNI member Rape Crisis Centres (RCCs):
Provided counselling and support to 1,384 people
Provided 180 accompaniments to a range of different services including; Sexual Assault Treatment Units (SATU), Gardaí, court and refugee hearings, and other medical and forensic facilities
Responded to 13,208 contacts made to their helplines throughout Ireland
This amounted to:
15,192 appointments for counselling and support
756 hours of accompaniment
818 hours spent on Helpline calls
Counselling and support
Almost nine out of ten RCC service users were survivors of sexual violence (85%), 15% were supporting people who have experienced sexual violence and the remaining less than 1% were indirectly affected by sexual violence (neither a survivor not supporting someone who was a victim of sexual violence).
Statistics

FACT 1: 85% of people who commit sexual assaults are known to their victims (Rape Crisis Network National Statistics 2015).
IMPACT: 65% of those who suffer sexual violence do not report it to the Gardaí or any other formal authority. (Rape Crisis Network National Statistics 2015). This is often due to a relationship with their abuser, for example, only 15% of those abused by a relative reported the incident. (Rape Crisis Network National Statistics 2014).
FACT 2: Rapists are men of all ages and from all walks of life.
A US study of 646 convicted rapists found that they were no more psychologically disturbed than those who had committed robberies or assaults (Amir, M. (1971) Patterns of Forcible Rape. Chicago: University of Chicago Press).
IMPACT: Survivors are often not believed because the rapist does not fit the stereotype, as they seem to be such a 'normal' or 'decent' person.
FACT 3: All women face the possibility of rape, not only attractive ones. Interviews with rapists confirm that the woman's looks were not important to them.
IMPACT: The mistaken belief that rape is about sexual attraction leads to excusing the rapist. Some people say that the woman's looks, short skirt or make-up provoked the attack.
FACT 4: Resisting does not protect from being raped. All rapists use tactics of intimidation and fear. A common reaction is to freeze. Not fighting back or submitting can be a survival response. The rapist is in control of how he acts; the victim is always reacting to the rapist. (Schmidt et. al. 2007)
IMPACT: Survivors wrongly blame themselves. If they have no bruises, cuts or injuries to show, they question whether they were really raped. Society and the justice system question the survivor's actions.
FACT 5: Reporting rape or sexual assault involves complex, invasive and sometimes traumatic procedures. Women who have been subjected to rape or sexual assault are often treated with suspicion and disbelief. This makes it unlikely that a woman would make and stick with a false accusation of rape.
IMPACT: Family, friends and acquaintances, without considering the above, do not believe the survivors, especially if they know the rapist. They suspect the survivor wants revenge or regrets what he/she did. As a result, survivors do not report or proceed with prosecution. This reinforces others in the belief that the survivors lied in the first place.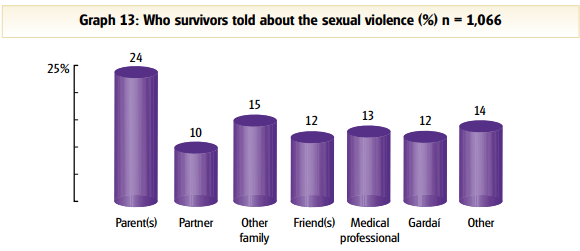 FACT 6: Rape is not a well reported crime. In the Rape Crisis Network National Statistics 2015, fewer than 32% of survivors reported the sexual violence to the Gardaí. Fear of not being believed, of hurting loved ones (for example, if the rapist is a family member), or fear of the attacker can cause a survivor not to report. Also, many survivors simply try to forget that it ever happened.
IMPACT: Low reporting leads to a denial of the scale of the problem in our society and rapists continue to get away with their crimes in huge numbers.
FACT 7: Sexual violence does not only happen to an unfortunate few, Irish research has found that one in five adult women and one in ten adult men experienced sexual violence (The SAVI Report, Prof. Hannah McGee et al, Royal College of Surgeons, Liffey Press, 2002).
IMPACT: Denying the scale of the problem isolates the survivor and empowers the perpetrator.
FACT 8: Child Sexual Abuse is not a rare occurrence, Irish research in 2002 found that over 20% of Irish women and 16% of Irish men had experienced contact sexual abuse in childhood. Another 10% of women and 7% of men had experienced non-contact abuse (The SAVI Report, Prof. Hannah McGee et al, Royal College of Surgeons, Liffey Press, 2002).
IMPACT: Survivors, feeling that what happened to them is rare and therefore 'shameful' or, on the other hand, not 'bad enough', live in silence, do not disclose and do not seek support or help.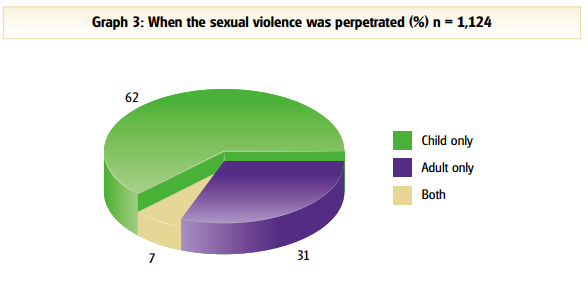 FACT 9: Most children are not abused by strangers. 62% of survivors who were under the age of 13 when the violence took place disclosed that the abusers were relatives/family members. Children aged 13 to 17 were more likely to be abused by friends/ acquaintances/neighbours (47%) (Rape Crisis Network National Statistics 2015).
IMPACT: Survivors who knew the abuser, are the least likely to tell anyone and to seek support and help.
FACT 10: Boys are sexually abused too. In 2015, 12% of Rape Crisis Centre clients were male and 81% of them were subjected to child sexual violence (Rape Crisis Network National Statistics 2015). The SAVI Report found that 60% of young men who had experienced Child Sexual Abuse had never told anyone before telling the researcher (The SAVI Report, McGee et al, Liffey Press, 2002).
IMPACT: Men and boys find it particularly hard to ask for help and abusers continue to get away with their crimes.
"I have visited the RCNI website numerous times to look at statistics and to inform myself, mainly in an effort to remind myself that I am not alone."
- Survivor