Rape Crisis Network Ireland (RCNI) has released its Annual Statistics 2020 report
October 11th, 2021
RCNI's 2020 report shows a huge increase in demand for services across all centres during the pandemic.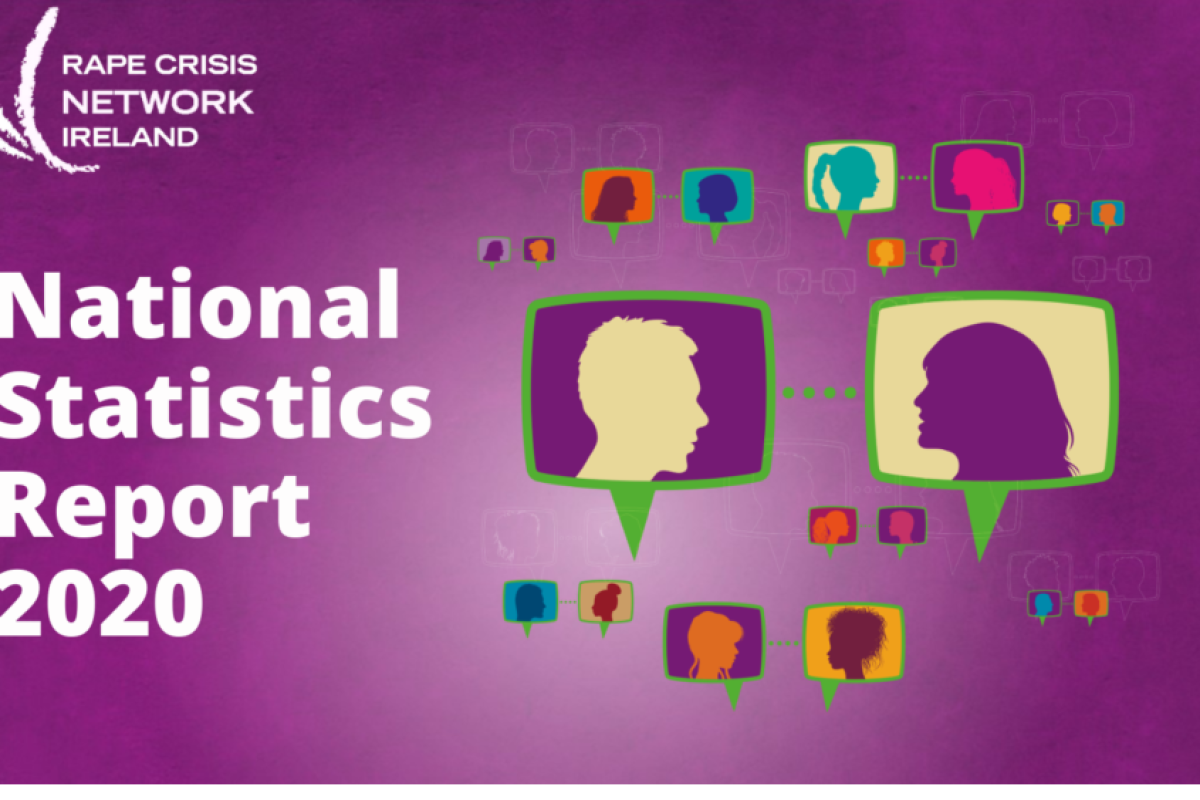 Rape Crisis Network Ireland (RCNI) has released its Annual Statistics 2020 report. The report shows a huge increase in demand for services across all centres during the pandemic to the point where waiting lists for counselling is at an unacceptable point.
The findings indicate an average 22% increase in helpline calls during the pandemic. There is a month on month increase, with the exception of October, December recording one of the largest percentage increase at 34%.
Interestingly, the number of helpline calls in January and February of 2020 also saw a 21% and 16% increase respectively – this was prior to the pandemic. This would correspond with a general increase in demand for our services, year on year. In the past 10 years, there has been a 100% increase in helpline calls, a 63% increase in appointments provided and a 30% increase in the number of survivors, both men and women access our services.
Another very interesting finding from the statistics is that the length of time spent on phone calls increased by 71% when compared to the same period in 2019.
Verena Tarpey, Rape Crisis Midwest
"Calls to our helpline were previously much shorter. We found that during the pandemic, staff at our centre in Limerick spent much longer time on helpline calls. For the most part, prior to this, our helpline would have been used by survivors to seek appointments, referrals and information regarding services. Instead, we found ourselves engaging with survivors for long periods on the phone, almost as a counselling service where we were dealing with trauma over the phone and 'holding' survivors.
This is despite the fact that our services never ceased during the pandemic. However, demand for services continued to surge throughout the pandemic to the point where our waiting list is now incredibly long and arguably unacceptable"
According to the RCNI, the findings for 2020 indicate that regional Rape Crisis Centres are facing an emergency situation in which chronic underfunding is leading to an inability to train, recruit and retain counsellors resulting in long waiting lists for survivors in urgent need of support, in which local helplines whose existence rely solely on fundraising are frequently being used by survivors to replace or supplement a planned programme of counselling and in which these essential services are dependent on annual funding that is uncertain, inadequate and unstable.
RCCs "these figures indicate that when seeking help people want their first point of contact to be local and that regional services provide an indispensable and integral service to their communities.'"
In spite of one in three women and one in four men being victims of sexual violence in their lifetime, in spite of Ireland's human rights obligations under the Istanbul Convention, in spite of a global pandemic that made the lives of women and girls even more unsafe, the Irish state still needs to do more to respond adequately to the needs of victims of sexual violence. The full report is available here
If you wish to support Rape Crisis Midwest, then please consider supporting our 9th Annual Quiz Night, taking place virtually and from the comfort of your own home on Friday, 22nd October at 8pm. Tickets cost from €5 per person. Link to the booking is here
Verena Tarpey
086 6614481
ABOUT RCNI:
RCNI represents seven Rape Crisis Centres around Ireland and collates annual statistics on who is accessing RCC helplines, appointments, and accompaniments, why they are using services, and what kinds of sexual abuse they have been subjected to
Return back to News